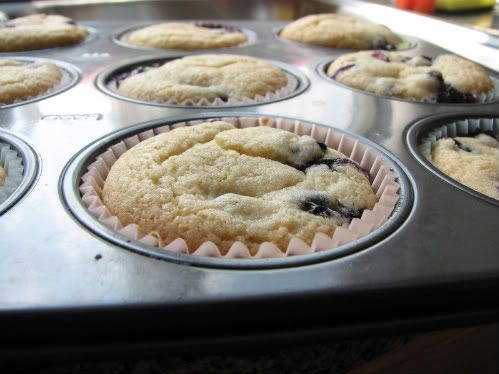 We went to our local farm today and purchased some gorgeous fruits and vegetables. One thing I bought was plump blueberries. I was going to make a blueberry cobbler, but the boys insisted on muffins. The muffins turned out totally delicious. Of course Older Boy won't eat them now because he didn't realize that they'd have REAL blueberries. He's used to the fake little blueberry specks you get in processed food. He's seriously anti fruit and that really bothers me. Good thing I figured out that the muffins are only 4 points each at
http://www.weightwatchers.com/
. Guess they'll make a good breakfast or snack item. The Little Man can only eat so many and the recipe made 17. If I freeze them, they fall out of favor and then no one eats them.
Ingredients
1. 1/2 cup dairy free margarine
2. 1 cup white sugar
3. 1/4 cup brown sugar
4. 1 teaspoon of salt
5. 4 oz. organic applesauce
6. 1 eggs worth of Ener-G egg replacer, prepared
7. 1.5 cups Bette Hagman Feather Light Rice Flour
8. .5 cup Sorghum Flour
9. 2 tsp. gluten free baking powder
10. .5 cup milk alternative (I used vanilla Silk)
11. 1 Tablespoon lemon juice
12. 2 cups of blueberries
Directions
1. Preheat oven to 375 and line muffin tin with paper liners.
2. In a large bowl, mix together margarine, white sugar, brown sugar, salt and lemon juice until fairly smooth. Beat in applesauce and egg replacer.
3. In another bowl, mix together Feather Light Rice Flour, Sorghum Flour and baking powder. Use a small amount of this mixture to cover blueberries (this helps keep them from sinking to the bottom of the muffin). Mix in the flour and milk alternative, alternating each. Gently fold in blueberries.
4. Spoon batter into the lined muffin cups filling cups almost to the top.
3. Bake for 30 minutes in oven until muffin tops are slightly browned and a tooth pick inserted comes out clean. Cool for 10 minutes before removing from pan or eating.