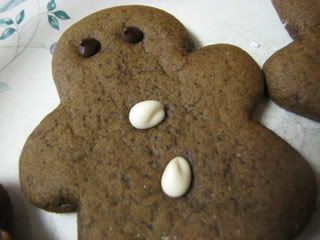 The boys wanted gingerbread cookies. I know I made them last year, but I think I used a mix from Gluten Free Pantry. I didn't have that today so I had to go fishing for a recipe that I could "allergenize". I found one that looked promising at
Allrecipes
. The original recipe is from Colonial Williamsburg. What attracted me to it is that it didn't have any eggs in it, so that was one less ingredient that I would have to replace. The cookies turned out beautifully! They held their shape perfectly and taste very yummy! They are a very old fashion cookie.
Recipe adapted from
Allrecipes.com
Ingredients
1. 1 cup of white sugar
2. 2 tsp. of ground ginger
3. 1 tsp. ground nutmeg
4. 1 tsp. ground cinnamon
5. 1/2 tsp. salt
6. 1 1/2 tsp. baking soda
7. 1 tsp. xanthan gum
8. 1 cup dairy free margarine, melted
9. 1/2 cup coconut milk
10. 1 cup unsulfured black strap molasses
11. 3/4 tsp. gluten free vanilla
12. 4 cups gluten free flour blend (1 cup Bette Hagman's Gourmet Light Flour Blend, 1 cup Sorghum flour, 1 cup Tapioca flour, 1/2 white rice flour, 1/2 cup arrowroot starch)
extra white rice flour for mixing and potato starch for rolling
Directions:
1. Preheat oven to 375 degrees F. Line cookie sheets with parchment paper.
2. In a large bowl, stir together the sugar, ginger, nutmeg, cinnamon, salt, baking soda and xanthan gum. Mix in the melted margarine, coconut milk, molasses, and vanilla. Stir in the flour, 1 cup at a time, mixing after each addition. The dough should be stiff enough to handle without sticking to the fingers. If necessary, add additional white rice flour to prevent sticking.
3. When dough is smooth, roll between 2 sheets of wax paper or pat (I found patting easier)to 1/4 inch thick. Sprinkle with potato starch to prevent sticking. Cut into shapes and transfer to cookie sheets.
4. Bake for 10-12 minutes in preheated oven. The cookies are done when the top springs back when touched. Remove from cookie sheets to cool on wire racks. Decorate as desired.