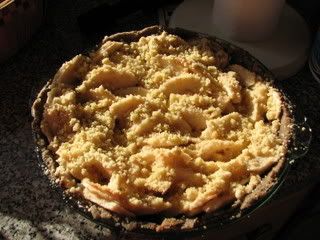 Crust:
1/2 cup buckwheat flour
1/2 cup sorghum flour
1 cup white rice flour
1 tsp. of xanthan gum
2/3 cup canola oil
1/4 tsp. cinnamon
1 tbs. sugar
7 tbs. cold water (add another tbs. one at a time if necessary)
1 deep dish pie plate, greased
Mixed together the flours, cinnamon, xanthan gum and sugar in a bowl. Add the canola oil and water and stir together until it combines. It did not form a dough ball (like traditional dough would) so I used my hands to kneed it for a few minutes and pat it together into a ball. Place dough on a rolling board lined with wax paper. Place another sheet of wax paper on top and roll dough until it's smooth and fits into a deep dish pie plate. Remove the top layer of wax paper and carefully lift the bottom sheet. Turn it upside down and transfer dough into the prepared pie plate. It's gluten free so it will crack and some pieces will fall off. Just mold the pieces back on and carefully seal the cracks. It will be a "Franken crust" pieced back together, but it still works.
Filling and crumble:
6-7 Macintosh apples, peeled, cored, and sliced thin
1/4 cup of lemon juice
3 tbs. corn starch
1/3 cup white rice flour
1 tbs. cinnamon
1/2 cup of sugar (or to taste if you like it more or less sweet)
4 tbs. dairy free margarine, softened.
Peel, core and slice apples and put them in a large bowl.
Drizzle apples with lemon juice, making sure to get all apples covered and to still have a little at the bottom of the bowl.
In a small bowl, mix rice flour, corn starch, sugar and cinnamon together. Spoon the sugar mixture over apples and toss until the apples are completely covered (you will not use the entire sugar mixture - only about 1/2). Set unused sugar mixture aside.
Arrange apples and liquid in the pie crust.
Add the margarine to the remaining sugar mixture and use a fork to cut the margarine into the sugar, making a crumble.
Spoon the crumble over the pie.
Bake for 30-40 minutes at 400 degrees F.
All of the measurements on the ingredients are approximate. Add what you like and subtract what you don't. It's your pie, so enjoy!
Flour mixture for crust:
Franken crust(the buckwheat flour made it dark brown):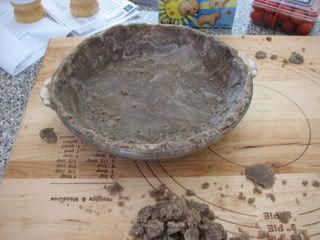 Sliced apples: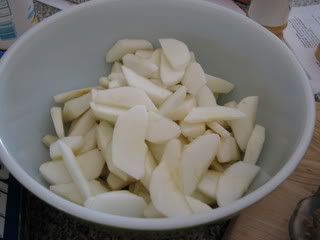 Apples covered in sugar arranged in pie crust: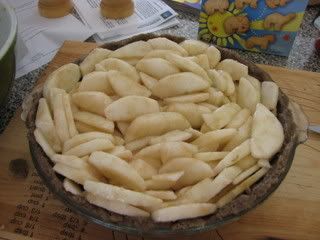 Covered with crumble and ready for the oven:
Out of the oven: